125 hectares of land has been reclaimed to date. Only 20% left to go!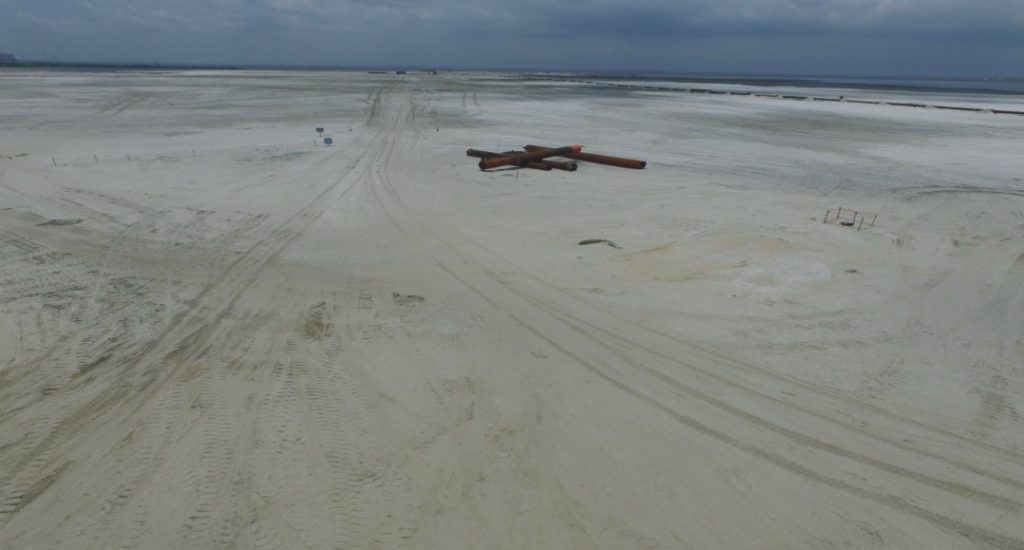 Access Road
The access road links Orange Island (at its southern side) to Itedo Waterfront. The new road has views of the lagoon on both sides. Reclamation along the alignment of the road and stock piling of sand has reached an advanced stage. This is to complete the filling of the road up to the full width and required levels. In addition, 10 temporary solar power electrical poles have been erected along the road for security. Bridges are to be built in 2 places along the road to provide access for small watercraft.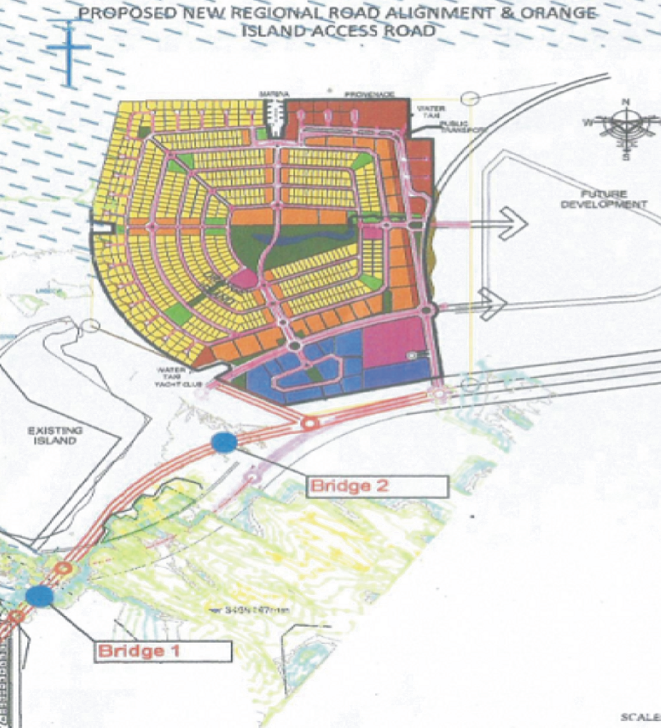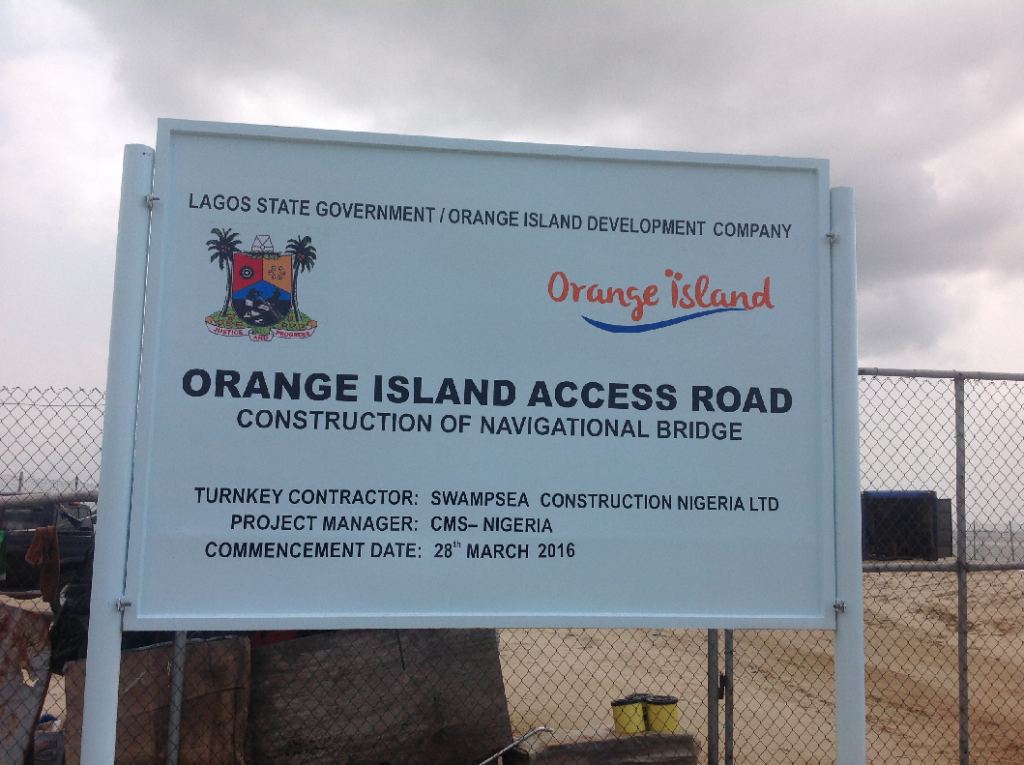 The road will eventually become one side of the Lagoon Highway, which according to the Lekki Master will run along the Lekki Peninsula waterfront from Freedom Way to Epe. The Lagos State Government has awarded the contract for the construction of Freedom Way which will create a fast access to the island from the 3rd roundabout of the Lekki Epe Expressway.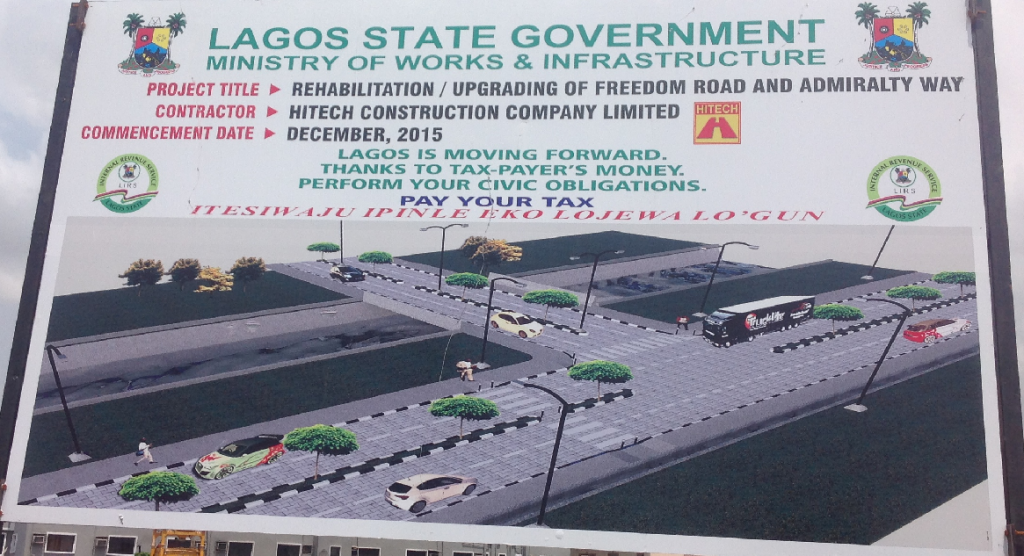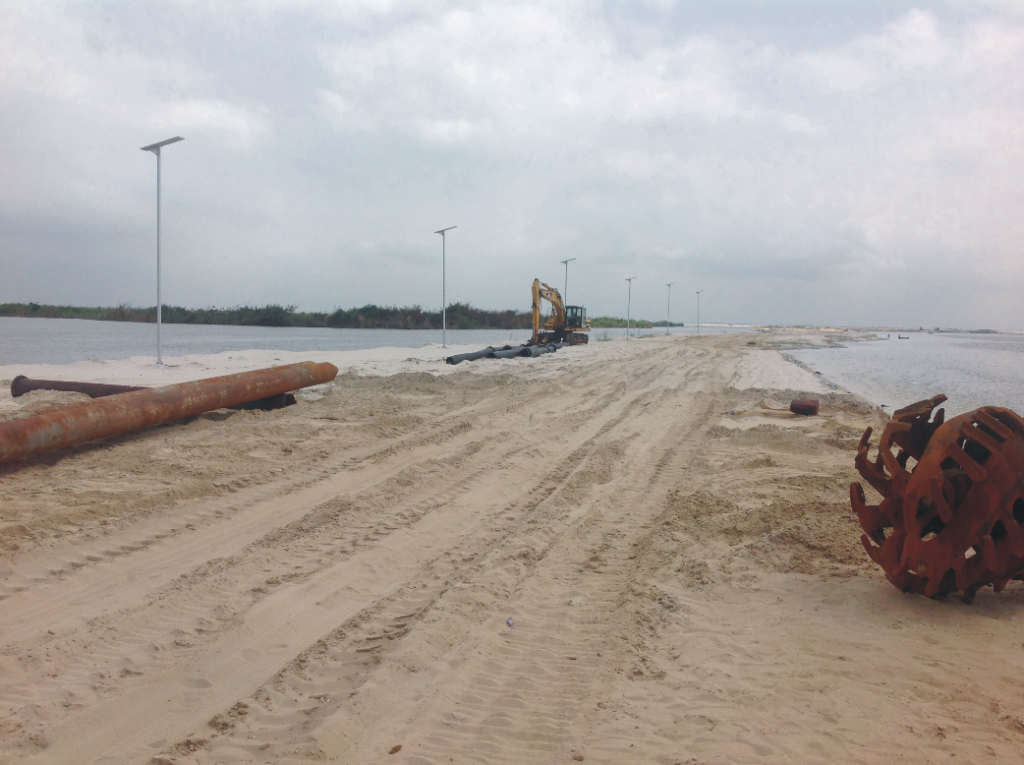 Environmental Impact Assessment
The 3rd Quarter Impact Mitigation Monitoring Report has been completed and submitted to the Federal Ministry of the Environment. The next phase of EIA reporting has commenced with EcoPro being engaged to carry out the analysis for the Infrastructure and Access Road.
Featured Orange Island District
The Commercial Strip


The main boulevard will house mixed-use developments that will include shops, offices and residential uses. It will provide access to a variety of land-uses including residential and public facilities. This positioning of this central spine is critical for the natural link with the future phase.
Did You Know!!!
The New Suez CanalThe New Suez Canal is one of the world's largest dredging projects at present. The plan is to expand the capacity of the existing Canal and will add a new 35-kilometre-long (22 mi) second shipping lane to the existing 164-kilometre-long (102 mi) canal. It also includes the deepening and expansion of a 37-kilometre-long (23 mi) section of the existing canal.
The enlarged capacity allows ships to sail in both directions at the same time over much of the canal's length. Beforehand, much of the canal was only one shipping lane wide, with limited wider basins for passing. This is expected to decrease waiting time from 11 hours to 3 hours for most ships, and to increase the capacity of the Suez Canal from 49 to 97 ships a day. We celebrate with our dredging contractors Van Oord, part of the consortium that participated in the project.

Website
Look out for our new website which will be up and running from 1 May.
New Marketing Manager
Onome is away on study leave. Please contact our new marketing manager Daniel Etiefe on 08085054212, 08067373155, 07046478044 or by email on daniel.etiefe@orangeislandng.com OR
Samuel Onwe Samuel.onwe@orangeislandng.com