Orange Island Development Company Limited is proud to announce the commencement of dredging works at its site. On August 2014 Van Oord Nigeria Limited mobilised the first pontoon to the site and commenced full mobilisation of equipment for dredging and reclamation works. The dredger finally arrived at the Orange Island site in early September and dredging started in earnest, a monumental milestone in the commencement of dredging works on the island.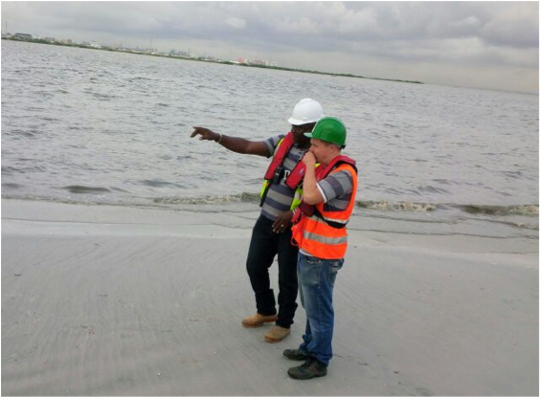 Standing on first sands of Orange Island.
Community
Orange Island Development Company Limited has also appointed Community Liaison officers representing Itedo and Ikate communities to ensure peaceful execution of the project. The liaison officers assumed duty at the beginning of August 2014.
Milestones
November 2013
Receipt of quarry licences from Ministry of Mines and Steel Development

December 2014
Signing of agreement with Van Oord Nigeria Limited

January 2014
Signing of agreement with Lagos State Government
Launched advert in This Day newspaper – commencement of sales

March 2014
Environmental Impact Assessment Public Notice advert in The Nation, The Guardian and The Punch newspapers

March/April 2014
Environmental Impact Assessment radio announcement on EKO 89.75 FM

May 2014
Money Laundering (Prohibition) Certificate from Special Control Unit Against Money Laundering (SCUML)

June 2014
Environmental Impact Assessment Panel review meeting and project site visitation
National Inland Waterways Authority (NIWA) permit

July 2014
Interim Environmental Impact Assessment (EIA) approval

August 2014
Advert in This Day newspaper on the commencement of dredging
Van Oord pontoon mobilised to the site
Dredging license by Lagos State Waterways Authority (LASWA)

September 2014
Provisional Environmental Impact Assessment
Dredging license by Ministry of Waterfront Infrastructure Development
First sands at Orange Island
The EIA Process
As we receive lots of questions about the Environmental Impact Assessment (EIA), here's the process we went through.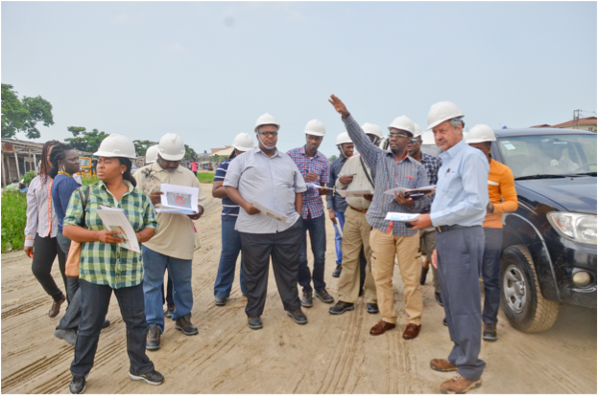 Site visit in action
Implemented Activities
January 22, 2013: EIA application with terms of reference to Federal Ministry of Environment
March 7, 2013: Site verification by Federal Ministry of Environment
March 22, 2013: EIA application granted by Federal Ministry of Environment
March 11-17, 2013: Dry season field study
July 8-14, 2013: Wet season field study
January-July 2013: Stakeholders consultations
January 13, 2014: Draft EISA submission
March 21, 2014: Public notice/display of the EISA in 3 national newspapers: The Guardian, The Punch and The Nation
April 22, 2014: Expiration of public display
May 13, 2014: Public review of the EISA
August 5, 2014: Interim permit to start dredging
Expected: Provisional permit
Expected October 2014: Final EISA, follows the inclusion of comments from the public reviews into the draft final report
The final EISA Report will be available on the website when completed.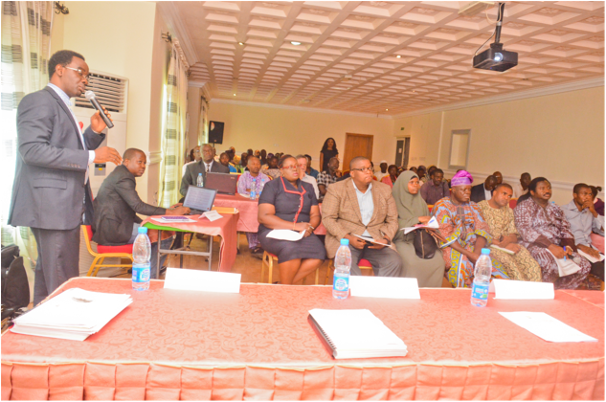 Environmental Impact Assessment panel review meeting
The Revised Master Plan
We continue to revise the master plan as the technical investigation and design process progress. The latest zonal plan (still in progress) is presented below.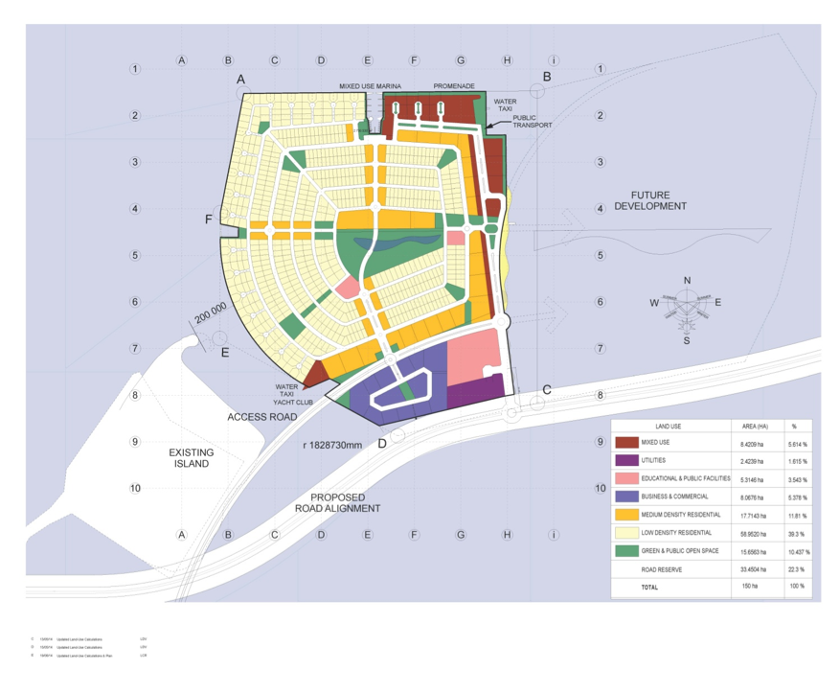 Featured Orange Island District
The Marina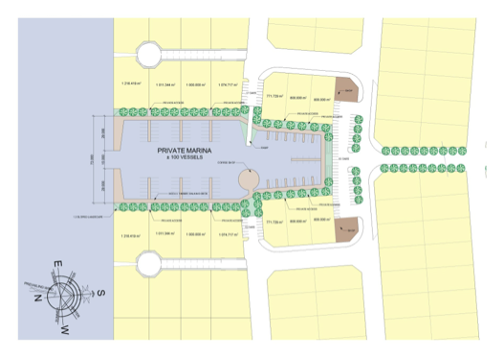 The focal point of the development is marina precinct. This node will be approached along a boulevard of mixed-use developments, terminating in a 'Village Square'. Surrounding the village square shops, restaurants, a promenade to the marina are proposed. The marina itself will be navigable and will have boat moorings to be let on annual leases.
 
A ferry terminal will be accommodated nearby to allow local residents to commute and ease vehicular congestion.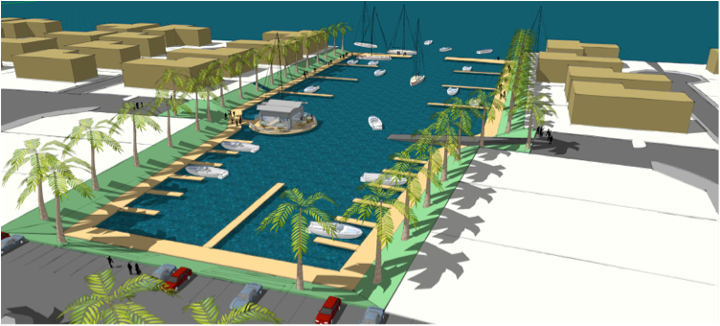 Introducing our Newest Consultants!
Three new consultants joined the team over the last few months.

The Via Consult Team is represented by highly experienced professional engineers that specialize in all municipal services, national roads and bridges, water purification and waste water treatment plants, structural designs, and innovative planning and design services. Via Consult offers a broad spectrum of services to meet client needs and requirements. For this reason, they work in association with electrical engineers, mechanical engineers, urban designer and architect firms, environmentalist companies, health and safety specialists.
The company is equipped to successfully plan and manage the project life cycle of major multi-disciplinary projects, from the project inception stage to the project closeout stage.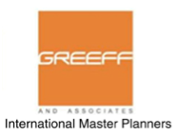 Greeff and Associates has extensive urban design experience over a period of 25 years ranging from new towns, urban re-development, spatial and master plan frameworks. These include the spatial framework for the Inner City of Pretoria, a strategic master plan for the University of Pretoria, UJ Development Framework, Technikon North-West Development Strategy, and University of Fort Hare. Recent projects include the Oubaai Golf Estate in George, hotel planning for Port Ghalib next to the Red Sea in Egypt, numerous corridor studies as well as facilities and planning for mining houses and low cost housing development.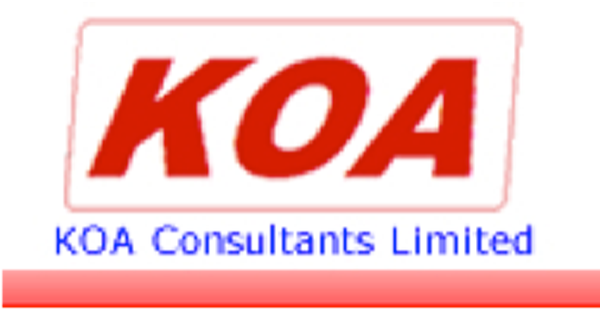 KOA Consultants Ltd (formerly known as Kunle Ogunbayo and Associates) is an independent firm of multi-disciplinary consultants engaged in the provision of consultancy services to clients in the private and public sectors of the community. Our experience, gathered over the years, enables us to advise our clients right from the initial conception of a project, feasibility studies through the design stages to completion and commissioning. Being a multi-disciplinary firm, we are able to offer a total consultancy package to our clients. This has the added advantage of a closely coordinated solution to problems and the benefits derivable from a large pool of specialists in a large variety of professional fields.
Sales
In the first release of plots, 110 plots were sold. Another 100 plots have been put on the market at a new pre-completion price of N80,000 per square metre. Payments are spread over 36 months.
650 sqm: N57,200,000
800 sqm: N70,400,000
1,000 sqm: N88,000,000
1,200 sqm: N105,600,000
Sale prices are inclusive of 10% for agency & legal fees.
Meet Onome Akpeghagha
Marketing Executive
Email or call her with any questions, comments, or complaints.
onome.akpeghagha@orangeislandng.com
Office: 01-4543779
Mobile: 07062702023, 08170586832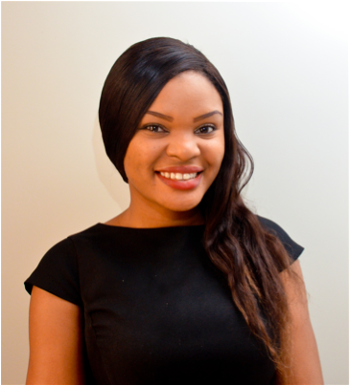 Did You Know?
The Lagos Lagoon is more than 50km long and 3 to 13km wide. It is separated from the Atlantic Ocean by a long sand spit 2 to 5 km wide, which has swampy margins on the lagoon side. Its surface area is approximately 6,354.7km².[1] The lagoon is fairly shallow and is not plied by ocean-going ships, but by smaller barges and boats. The lagoon receives the discharge of the Ogun River and the Osun River. It empties into the Atlantic via Lagos Harbour, a main channel through the heart of the Lagos, 0.5 km to 1 km wide and 10 km long.
Source: Wikipedia